English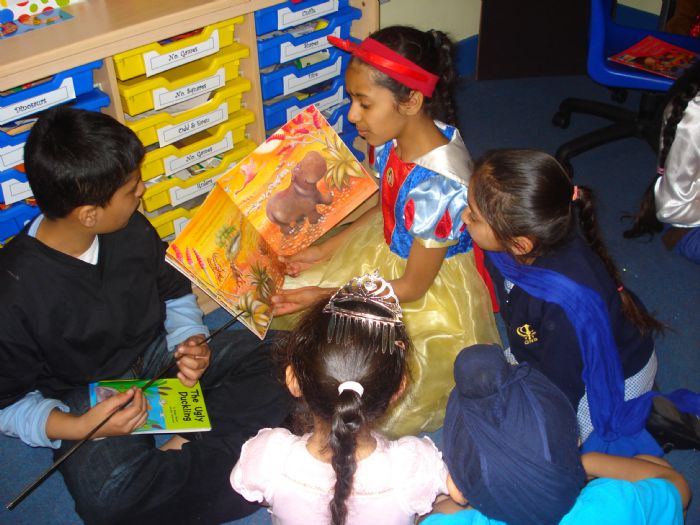 Our Vision Statement
"To provide an outstanding learning environment which challenges us to achieve our full potential and to continually share our knowledge and skills with the local and global community"
Aims
Pupils should develop skills in speaking, listening, reading and writing to enable them to express themselves creatively and imaginatively, and to communicate with others effectively. They will learn to become enthusiastic and critical readers of stories, poetry and drama as well as non-fiction and media texts.
Objectives
Speaking and listening
to speak clearly, fluently and confidently to a range of audiences
to listen to, understand and respond to other people
to join in group discussions
to participate in a range of drama activities

Reading
to read with fluency, accuracy and understanding, using a range of strategies
to read for information and enjoyment
to understand, interpret and appreciate literary and non-fiction texts

Writing
to develop writing skills on screen and paper through composing, planning and drafting
to use punctuation correctly
to create and shape sentences and texts
to use a range of spelling strategies
to understand text structure and organisation
to write legibly and fluently
to understand and use Standard English
to have an awareness of audience and purpose and adapt writing appropriately

Reading

We aim to foster in all our children a love of books so that they become readers for life. Children are taught to read by a variety of methods including phonics, learning key words and using meaning. Their progress is carefully monitored and a wide range of books (fiction and non-fiction) make up our guided and individual reading schemes.

Phonics

At Guru Nanak Sikh Academy, we follow the Jolly Phonics scheme initially, teaching children sounds and letters, then adapt planning from the Phonics Play scheme, combining with other useful resources such as 'Letters and Sounds' to meet the needs of our pupils . The teaching of phonics is organised into groups depending on children's prior knowledge and progress through letters and sounds.

Guided reading

At Guru Nanak Sikh Academy, we value guided reading as a means of improving reading skills, comprehension skills and group discussion. All pupils read as part of a group, usually outside the literacy lesson. The questions that adults ask during guided reading cover the range of Assessment criteria. Pupils are given the opportunity to discuss these questions as part of the guided reading group.

Library

We are very lucky to have a well-resourced and efficiently run library at Guru Nanak Sikh Academy. The borrowing section of our library is electronically logged and children can scan out their own books. We also have an extensive reference section of the library which children can use for independent research during or outside lesson time. Our librarian helps children to select books, and fosters a love of books within children at the school.

Help and support

All pupils receive quality first literacy teaching on a daily basis and activities are differentiated accordingly. In addition, where identified pupils are considered to require targeted support to enable them to work towards age appropriate objectives, intervention programmes will be implemented. Some pupils are able to have the benefit of small group sessions delivered by our teachers during some assembly slots. A 'second wave' of support is provided where we have our learning support assistants trained to deliver various programmes.
Online Literacy Resources & Activities
These links have various child friendly websites that provide free excellent resources. You can use these resources to help become an independent learner. These have all been created by other schools and organstaions.
http://www.woodlands-junior.kent.sch.uk/sitemap.html
http://www2.boardman.k12.oh.us/bdms/golubic/onlineliteracy.htm
http://www.rif.org/readingplanet/gamestation/
http://www.bbc.co.uk/schools/wordsandpictures/
Britannica which is an encyclopedia resource for pupils. The password is: GNSAPrimary
http://school-preview.eb.co.uk/storeschoolcard?id=gurunanaksa&target=/levels/foundation
For parents
Useful website links to find our more about Literacy and how you can help you child.
http://www.literacytrust.org.uk/
http://www.booktrust.org.uk/
http://www.literacymatters.com/