Punjabi

Our aspiration for every learner:
At Guru Nanak Sikh Academy the majority of our pupils come from a Punjabi background and speak Punjabi as their first language. Learning to speak Punjabi allows our pupils to strengthen ties with their family members at all generational levels and to value their culture and heritage, which contributes to a positive self-concept. Languages are the most important way of keeping our culture alive. Thus, the best way to thoroughly know about one's culture is to know the language. The ability to speak, read and write Punjabi also enables our children to understand the unique messages of the Siri Guru Granth Sahib Ji, the central religious scripture of Sikhism.
Our teaching enables students to read, write, speak and communicate effectively. Pupils are able to express their ideas and thoughts in Punjabi and to understand and respond to its speakers, both verbally and in writing. We aim for our pupils to be able to have conversations in Punjabi, to share their ideas and opinions as well as being able to ask and answer questions.
A range of strategies are employed to effectively teach the Punjabi language at all age levels. Our Early Years pupils benefit from a sensory learning experience which includes singing songs, role play and visual aids which illustrate new vocabulary. At Key Stage 1 and Key Stage 2 level we teach spelling, phonics and sentence structure with a focus on speaking, listening, reading and writing. Furthermore, creative worksheets, powerpoint presentations, activities and games are all employed to capture the children's interest.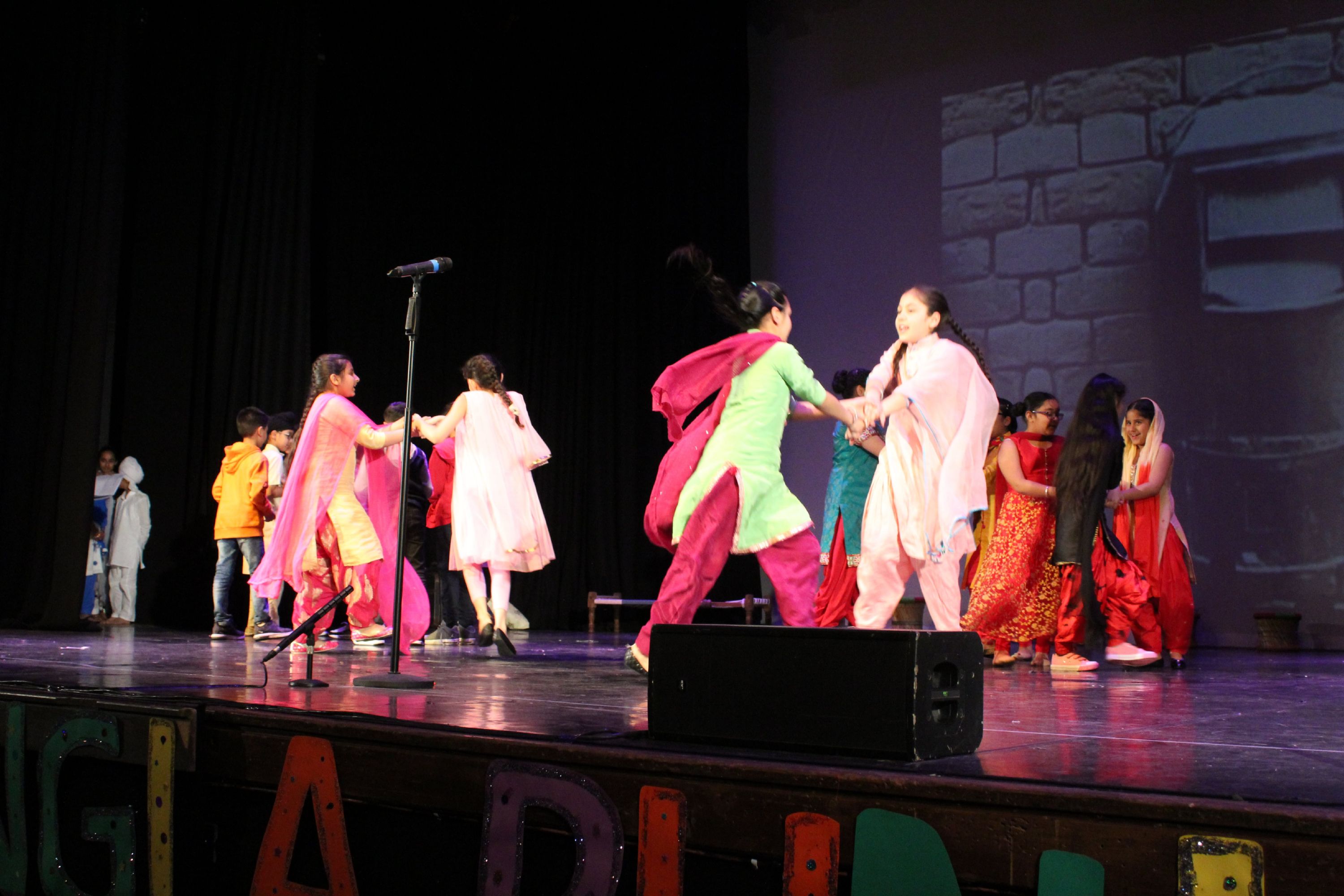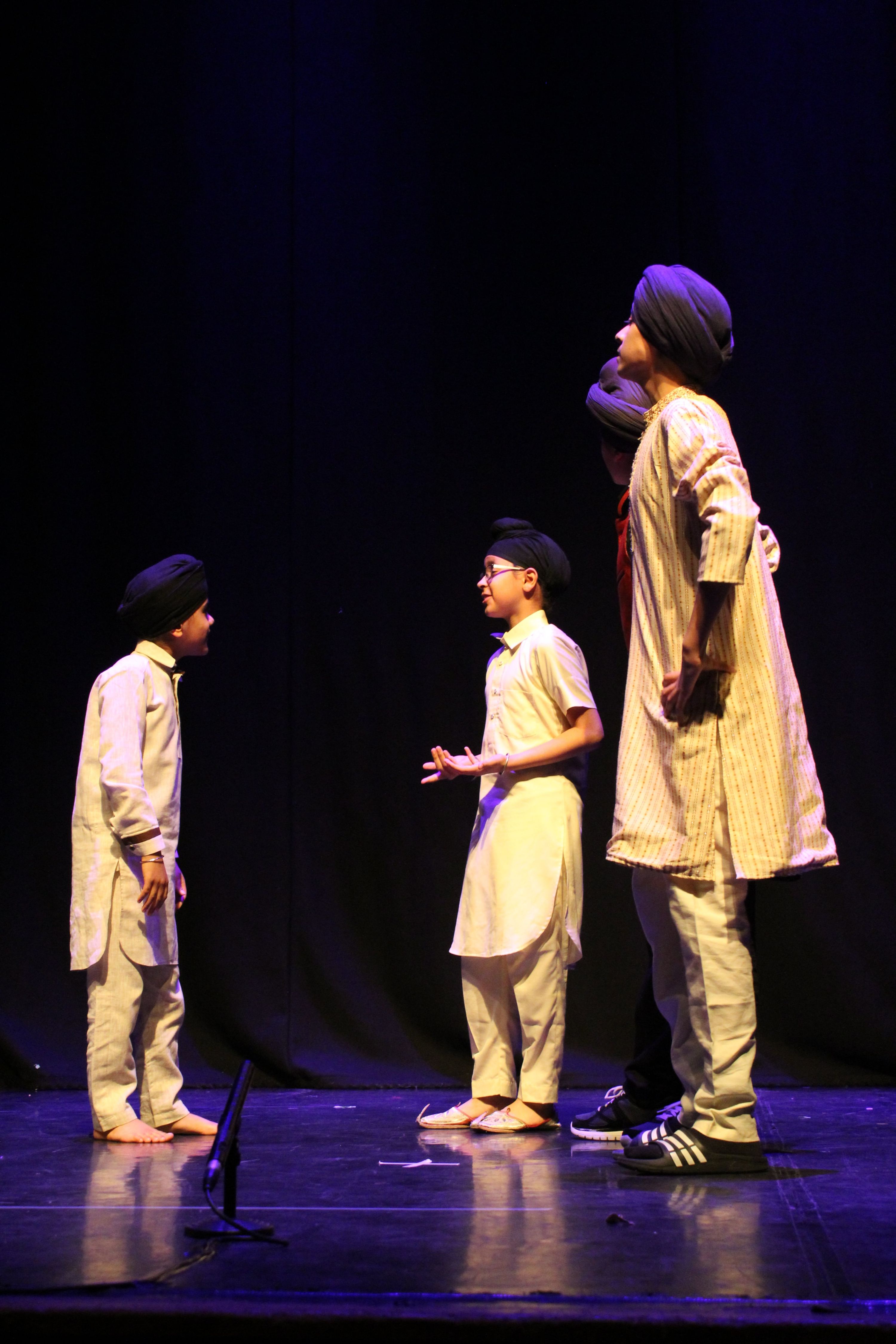 Key Stage 1
Children in Key Stage 1 are taught to listen attentively to spoken language and show understanding by joining in and responding. The support provided is focused on listening and speaking skills. They explore the patterns and sounds of language through songs and rhymes. Pupils are encouraged to speak in sentences, using familiar vocabulary, phrases and basic language structures to engage in conversations. Proper guidance is given on the pronunciation of different sounds, recognition and formation of letters and the joining of different letters to form words. Children's ability is closely monitored to enable them to progress on their personal academic journey.
Key Stage 2
All children in Key Stage 2 are expected to communicate orally and share their ideas and feelings. The support provided focuses on listening, speaking, reading and writing skills. Pupils are encouraged to speak in sentences, using familiar vocabulary, phrases and basic language structures to engage in conversations. They should be able to compare their use of English grammar to Punjabi language and express some ideas in writing. Children's ability is closely monitored to enable them to progress on their academic track, they are grouped to reflect their ability. The pupils who are in the advanced groups will work on writing and reading skills. We use excellent resources to support the subject and offer a variety of extracurricular activities. Students are encouraged to write their own poems and perform the annual Talent and Cultural Show in front of friends and family.
Resources for Gurmukhi/Punjabi
Website Link: Learn Punjabi
Website Link: Learn Panjabi Online
Website Link: Punjabi learning resources from Punjabi university Patiala
Website Link: Learn Panjabi for Beginners
Online Book:- Online Book: Learn Punjabi in 25 days
Website Link: Online Punjabi Dictionary
How we support our pupils to acquire this learning:
Learning the Punjabi language presents a valuable opportunity for children to be bilingual which manifests a myriad of benefits. These include enhanced cognitive ability, increased cultural awareness and promoting open mindedness. For many of the school's student population, it is also an opportunity to become fluent in their mother tongue thereby promoting improved familial communication and links within the wider community.
The whole school curriculum for Punjabi is underpinned by the curriculum drivers and is planned with cross-curricular links with other subjects where applicable. In particular, we aim to improve the connection between the teaching of Punjabi and literacy throughout the school, ensuring that strategies which are pertinent to outstanding teaching and learning in the latter are employed in the former.
Essential skills such as speaking, listening, reading and writing are deeply embedded within the Punjabi curriculum and it is intended that over the course of their primary education children will become fluent in the Punjabi language and well versed in additional communication etiquette. By the end of year 6 pupils should be able to express themselves with confidence and elaborate on their ideas appropriately. Such progress is facilitated by carefully chosen topics, appropriate to the expectations of the year group and ability of the children. There are ample opportunities for speaking and listening at all year group levels to ensure pupils reach their intended targets.
The learning environment in each class has a display dedicated to Punjabi vocabulary. Pupils can routinely refer to these displays in their Punjabi lessons to help them during speaking and listening activities in addition to their written work. Pupils are taught to read and write in Punjabi using rudimentary phonic strategies such as segmenting and blending. Teaching is planned to be incremental and to build upon prior learning so as to promote the gradual development of all pupils' ability. Progress is further supported by differentiated resources including alphabet and vowel sheets. Opportunities for self-selection enable pupils to take responsibility for their own learning.
How we measure our achievements:
Punjabi assessments in speaking, reading and writing are ongoing as teachers carry out in-depth assessment at the end of each term, and highlight the age-related outcomes that have been achieved. This data is used to inform next steps and challenge them to exceed these standards.

Teacher assessment framework allows opportunities to measure progress from baseline. Progress across classes is closely monitored by the subject leader.

Teacher gives feedback through marking and verbal discussions.

Pupil progress is shared with parents / carers in line with school recommendations.

Pupils will continuously build on their previous knowledge as they progress in the Punjabi language learning journey through each class. In Key stage1, pupils learn the letters, phonic sounds and how to formulate short words/phrases. Key stage 2 pupils will be exposed to longer sentences/text. Children will transfer to KS3 effectively and successfully and will be well prepared to continue and develop their language skills. Most of the children will be able to communicate confidently and read and write using the longer well constructed sentences.

Pupils listen attentively to spoken language and show understanding by joining in and responding. Pupils are expected to speak in sentences, using familiar vocabulary, phrases and basic language structures.

By the end of Year 6 they will understand basic grammar appropriate to the Punjabi language, including feminine and masculine words and the use of present, past, and future tense and formulate their own personalised responses using the correct sentence structures and grammatical knowledge.

Pupils enjoy the experience of learning a Punjabi language and build skills that they can develop further throughout their school career. Children are provided with opportunities to communicate with each other in the Punjabi language and learn that Punjabi language has structure which is different from English language.

Pupils can read carefully and show understanding of words, phrases and simple writing by the end of Key Stage 2. They are encouraged to pay attention to the detail of meaning through translation, and will extend the range of their vocabulary and understanding through reading sentences and short texts.

Pupil's excitement to perform in the cultural shows reveals that children feel fulfilled and enthused by the subject.