Sikh Studies

Our aspiration for every learner:
Sikh Studies subject is integral to help pupils to explore attitudes of self awareness by becoming increasingly aware of their own beliefs and how their beliefs should affect the way they behave. The subject provides opportunities for students to explore their background and understand the key features of that ethos. It provides them with an age-appropriate introduction to Sikh scripture, beliefs, history, social and moral issues. The emphasis is on knowledge and understanding of core ideas and being able to connect them to actions and events. Many students find this subject to be very informative and provides an initial understanding of Sikhi.
Pupils are encouraged to consider what can be learned from Sikh beliefs and practices and from concepts such as equality, authority and sharing. The focus is on how beliefs impact on a Sikh's way of life. The subject ensures the pupil to receive a broad and balanced curriculum and learn about the Sikh ethos/principles.
Students have learning opportunities through meeting guest speakers, celebrating gurpurbs, visiting gurdwaras, online research and group discussions. They are encouraged to use all their senses to explore the Sikh way of life. We work together in imbibing the Sikh principles (remembering God, working hard and sharing with others) of the school. In addition to this there are religious events which are celebrated by all students annually, offering them more performance and spiritual opportunities.
Sikh Studies curriculum aims to ensure that all students in both key stages gain knowledge and understanding of Sikh history, Sikh moral, beliefs, values, social and cultural issues so they can explain how a range of causes lead to particular events. Students learn the importance of teamwork and elements of honesty, working hard, and sharing with others.
This subject is taught through a cross-curricular approach providing a creative way to develop children's knowledge, skills and understanding. It will also provide opportunities for extending children's literacy, RE as well as PSHE skills.
The Sikh Studies curriculum continues to strengthen children's identity as Sikhs. This subject also provides opportunities to pupils to learn about the major historical events figures, symbols related to Sikh history and why these are important to Sikhs through creative PowerPoint slides.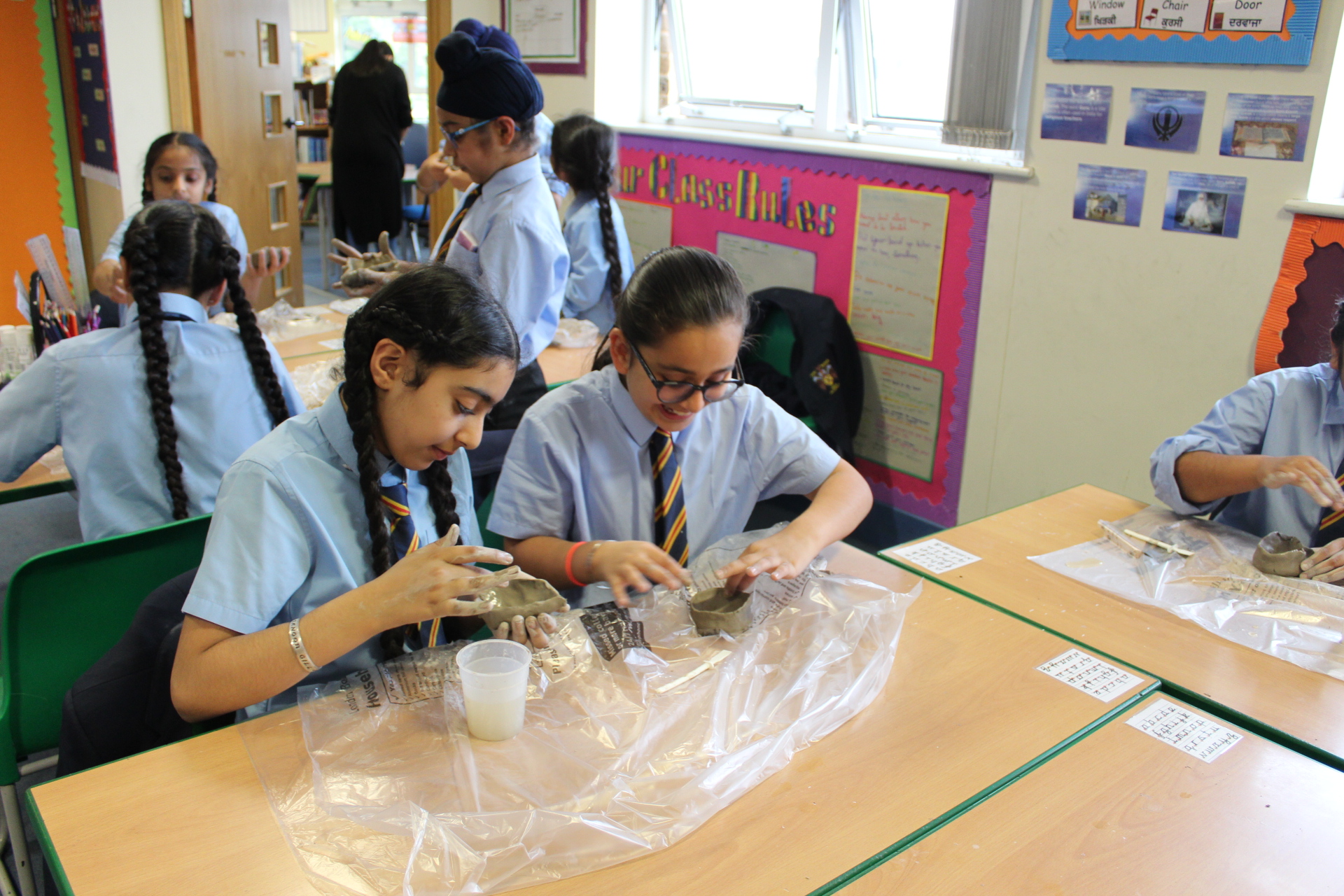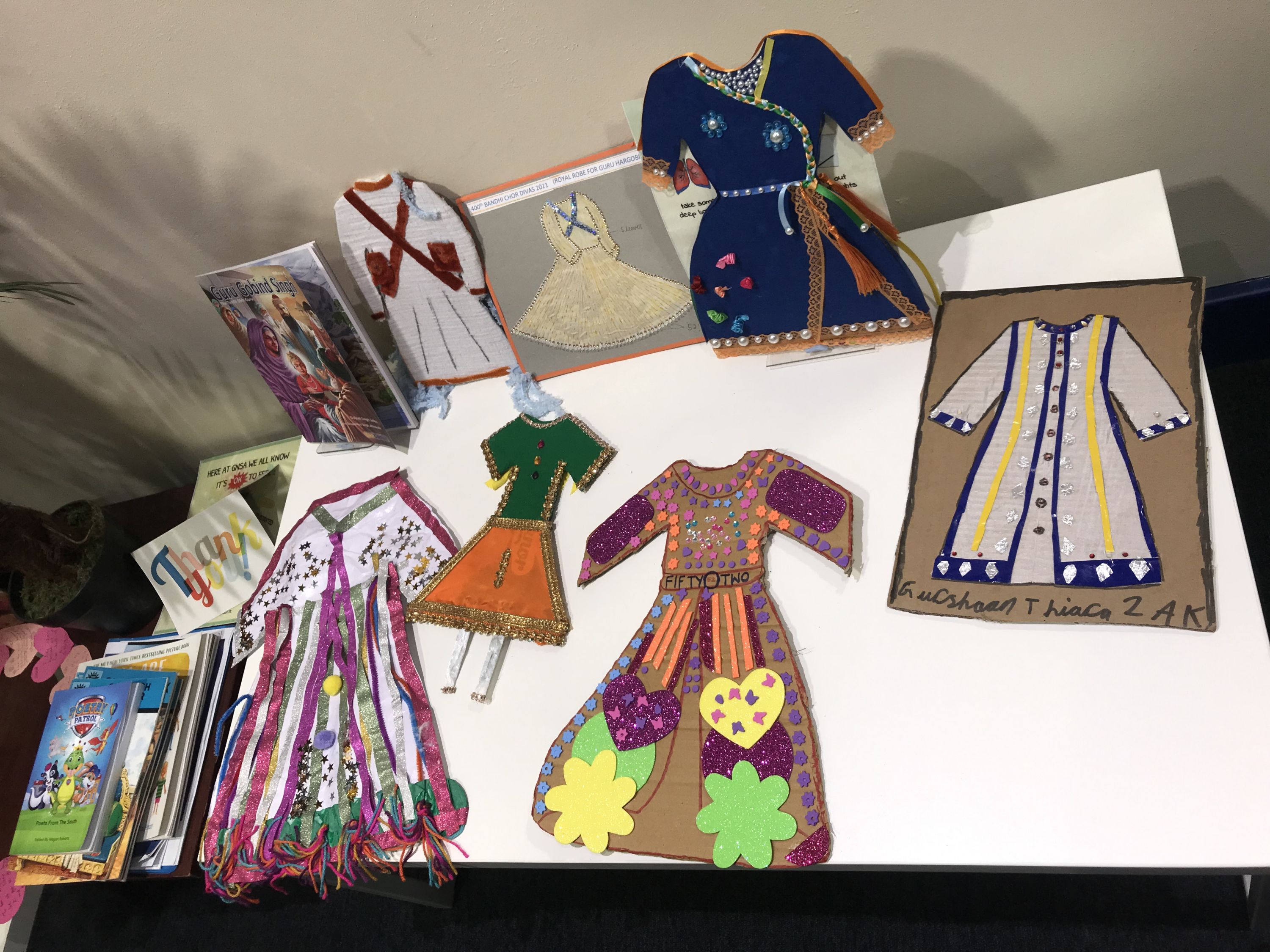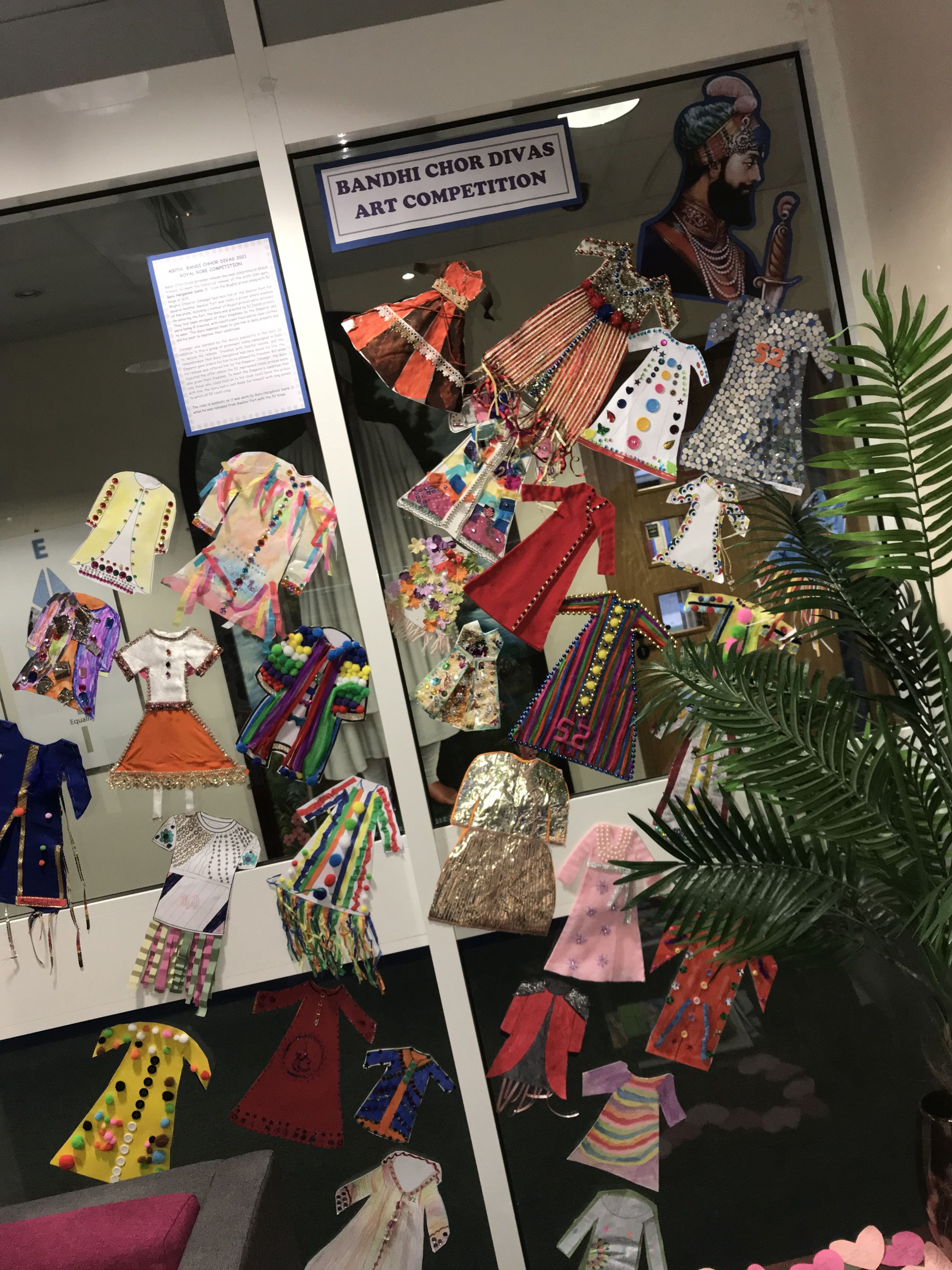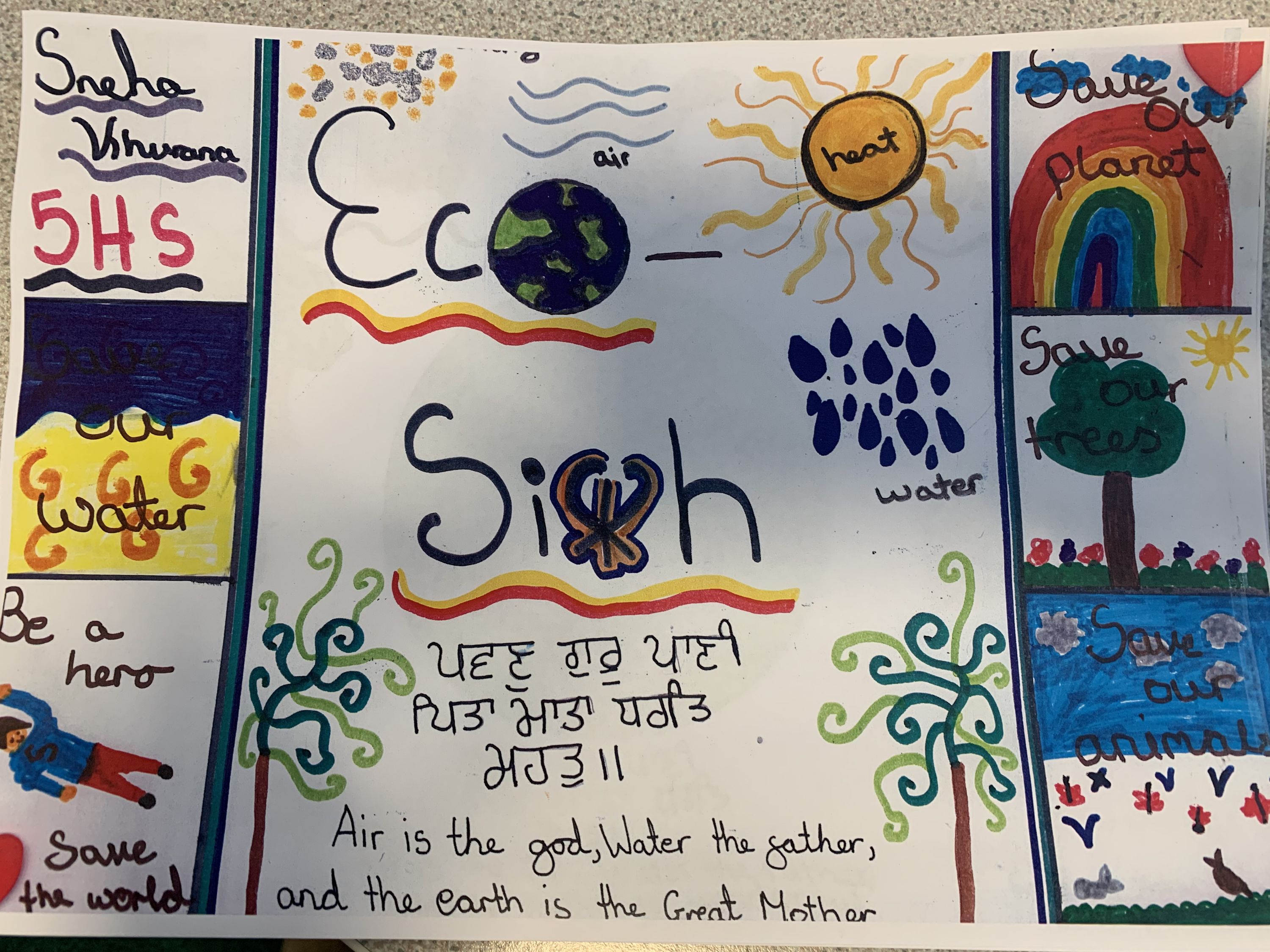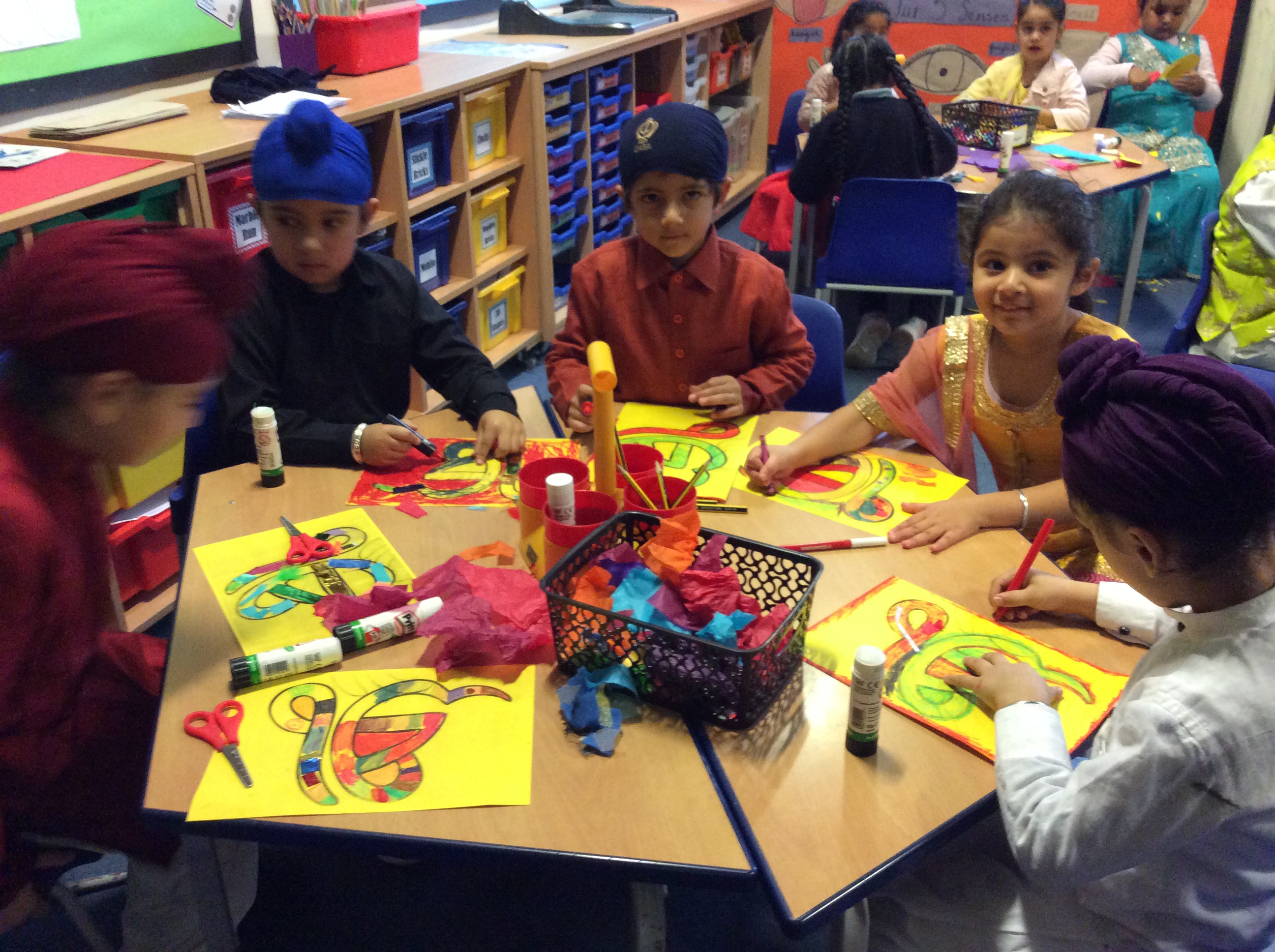 In Key Stage 1, Students learn to read and recite the first 10 pauris of the Japji Sahib Paath, the concept of simran and the importance of the Gurdwara. They learn the brief introduction to the life and writings of the ten Spiritual Masters of Sikhism. The main focus is on teachings through Sakhis and how to apply these values in real life. Students learn the importance of 3 main values of Sikhism-Naam Japna, Kirt Karna and Vand Chhakna. Pupils also learn the basic information about Panj Pyare, Chaar Sahibzade, religious symbols, the values of five K's and Deh Shiva.
In Key Stage 2, Students learn to read and recite all the pauris of the Japji Sahib paath and understand the meaning of Ardas. They learn the detailed information of the life and writings of the ten Spiritual Masters of Sikhism, over the period from 1469 to 1708. They learn about the teachings of Guru Nanak Dev Ji , Guru Angad Dev Ji's service and devotion to Guru Nanak Dev Ji, contribution of Guru Amar Das Ji to Sikh nation, Guru Ram Das Ji and Gurgaddi to Guru Arjan Dev Ji. Furthermore, they learn about Guru Har Gobind Sahib Ji/ Miri Piri/ Akal Takht, Sikh warriors and places of worship. Pupils gain an understanding of the role of Sikh women in Sikhism, Historic Gurdwaras, the importance of Takhats and three principles of Sikhism. Students listen to and read sakhis from Sikh history and share their views about sakhis they have listened to. They are encouraged to ask questions and reflect on their feelings and experiences.
http://www.sikhiwiki.org/index.php/Japji_sahib
https://www.searchgurbani.com/baanis/japji-sahib
http://www.sikhiwiki.org/index.php/Ten_Sikh_Gurus
https://www.searchgurbani.com/guru-granth-sahib/index/author
http://thesikhencyclopedia.com/component/alphacontent/7
http://www.sikhiwiki.org/index.php/Ardas
http://www.sikhiwiki.org/index.php/Ardas_English_Translation
http://www.rajkaregakhalsa.net/ardaas1.htm
http://www.sikhiwiki.org/index.php/Healing_and_Uplifting_
https://www.sikhdharma.org/sikh-history/?gclid=EAIaIQobChMIhqqGxeXz7wIVzxoGAB2BOwf3EAAYAiAAEgKRd_D_BwE
How we support our pupils to acquire this learning:
The Sikh Studies curriculum is paramount in developing the pupils' cultural, moral and spiritual awareness in addition to a meaningful understanding of the history of Sikhism. Through the study of sakhis (stories), scriptures, shabads (sacred songs) and religious artwork pupils develop a deeper sense of faith and a real world understanding of the difference between right and wrong. The study of Sikh sakhis is particularly instrumental in cultivating a stronger moral awareness as these stories all carry a deeper meaning to provoke higher level thinking skills and an awareness of one's own behaviour.
Pupils in both key stages are taught weekly lessons in Sikh Studies and these are further supplemented by regular assemblies in the school Gurdwara and whole school events to celebrate particularly notable events in the Sikh calendar. Weekly lessons incorporate opportunities for speaking and listening, discussing and debating in addition to online research. Pupils are encouraged to express their personal beliefs and ideas in an inclusive climate where they all feel valued and respected whatever their religious and cultural background.
Cross-curricular links with other subjects (particularly PSHE and history) are evident and the school's SHARE values underpin the general teaching and learning which takes place. Carefully drafted curriculum overviews and daily lesson plans are progressive and intended to build upon prior learning not only in the short term but in the long term. By the end of year 6, all pupils should be well versed in the history of Sikhism and its principles which they can embody to become responsible and respectful global citizens.
How we measure our achievements:
We measure the impact of our curriculum by assessing children's understanding of each topic before and after each lesson and through the end of term assessments.

Sikh Studies gives the knowledge, skills and understanding to value truth and goodness, strengthening the capacity for making moral judgements and for evaluating different types of commitment to make positive and healthy choices. All children are expected to be able to do this by the end of Year 6.

Sikh Studies at GNSA Primary plays a significant role in the promotion of spiritual, moral, cultural and mental development. It extends pupils' knowledge and understanding of religion and beliefs and the influence of religion on individuals, families and communities.

The teaching of Sikh Studies develops Pupils' sense of identity and belonging in the world and prepares them for life as citizens in a multicultural global society. Pupils demonstrate respectful behaviour and a positive attitude towards other people, in particular those whose faiths and beliefs are different from their own.

Sikh Studies enhances pupils' ability to evaluate issues of truth, belief and faith and to communicate their responses.This subject offers opportunities for personal reflection and spiritual development.

It encourages a positive self-image by enabling personal reflection and exploration of ideas about the self from different religious traditions. This enables pupils to appreciate their own and others' beliefs and cultures and how these impact on individuals, communities, societies and cultures.